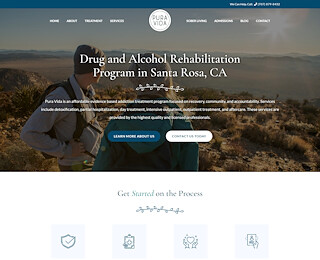 Drug or alcohol addiction is a disease that can take over your life. Once you are ready to put an end to the addiction you can begin treatment. Recovery is a process that starts by choosing the best treatment center in Santa Rosa. At Pure Vida Recovery Services, we offer unique treatment programs that utilize the latest science-based therapies. We are a leading Santa Rosa drug rehab providing high-quality programs that we custom tailor to suit your needs.
Evidence-Based Treatment Options
Our treatment center in Santa Rosa utilizes a variety of treatments that are based in science. We have a skilled professional team that will evaluate your situation and create a rehab plan that fits. Some of our program features include therapies such as cognitive behavioral therapy and others. We treat co-occurring mental health issues to help get to the root cause. Many times, substance abuse may be caused or increased due to an underlying condition. We work to uncover these conditions so your treatment will be successful. We treat any number of mental illnesses that could be linked to addiction including trauma and others. We focus on working to treat the mental illness along with addiction to obtain lasting results. We use therapies that are rooted in science so they are known to have positive impacts on people. We also work to prevent relapse.
Features of Our Treatment Center in Santa Rosa
In addition to a full selection of evidence-based therapy choices, we also offer medication assisted treatment. We have a physician available to oversee withdrawal and provide medications that will help reduce withdrawal symptoms. We also provide support services and referrals when needed. The best results are those that happen with a program that encompasses the entire person. To that end, we include recreational therapy and life skills programs as part of a comprehensive plan. You can participate in a variety of activities and will learn life skills to help you integrate once you get home.
As a top alcohol and drug rehab in Santa Rosa, we know the importance of support from your loved ones as you go through the recovery process. We offer family support including family counseling, individual family sessions, and a weekly family support group. You will get the help and continued support you need to ensure that you continue on a successful path to recovery even after you complete our program.
Sober Living Program
As a preeminent treatment center in Santa Rosa, we offer our treatment programs through our outpatient facility. You may live at one of our sober houses where you will have all the comforts and amenities you need while in a structured environment. We have men's, women's, and co-ed sober living where you will be able to practice your new skills and get support from others who are going through a similar situation. We provide free transportation to our outpatient facility for treatment, which typically occurs several days a week.
Call Pure Vida Recovery Services today or contact us to get support or apply for a scholarship: https://www.pvrecovery.com/memorial-scholarships.
Pura Vida Recovery Services
707-879-8432
130 Stony Point Rd. Suite J
Santa Rosa CA 95401 US