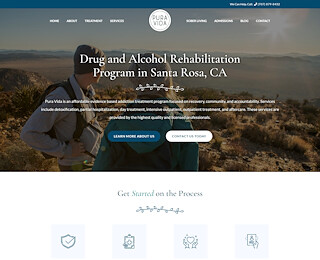 When you are ready to get the treatment you need to recover from addiction, you need support and help from professionals. Not everyone wants to spend time at an inpatient treatment center. If you want to seek treatment but prefer better accommodations, choose Pure Vida Recovery Services. We offer a range of treatment programs that you can attend during the day while you stay at one of our sober living homes. We are a premier alcohol and drug rehab in Santa Rosa.
Treatment Options
When it comes to addiction treatment, there are generally two main types of treatment including inpatient and outpatient. Inpatient treatment is also called residential rehab because you will live at the treatment facility for the duration of your program. Outpatient treatment is typically reserved for those who are unable to stay at rehab or those who have already been through a program. At Pure Vida Recovery Services, we take a fresh approach to rehab treatment. We offer recovery programs through outpatient treatments and you live at one of our sober houses. This alternative to a strict inpatient treatment center is the ideal solution for many people who want to achieve successful recovery.
What Makes Sober Living Beneficial?
As one of the top addiction recovery services in Santa Rosa, Pure Vida Recovery Services offers premier treatment in a setting that helps you succeed. Our sober living homes have rules and guidelines in place to ensure that you maintain attention to the program. At the same time, we offer a place where you can relax and make friends with others who are also going through treatment. We have fun activities that give you the chance to grow and thrive while you take part in therapy on an outpatient basis. We find that those who stay at our sober houses are happier and have better success at accomplishing their goals. We provide you with a great alternative to the typical inpatient treatment center.
Why You Should Choose Our Sober Living Alternative
Our Santa Rosa drug rehab offers you science-based treatment options that will be most likely to succeed. Our experienced team of professionals will evaluate your needs and design a program of treatments that will be helpful. We will guide you through the process and give you the tools you need to get on the path to recovery. Those who participate in outpatient treatments with sober living are able to achieve excellent results. You will gain the skills and get the support you need every step of the way. Our sober living homes have all the comforts of home and allow you a safe haven where you can focus on your recovery while also integrating what you learn into real life. You will likely find that you enjoy our programs much better than living at an inpatient treatment center.
At Pure Vida Recovery Services we offer preeminent recovery programs in comfortable surroundings. Unlike a typical inpatient treatment center, we provide you with the treatment you need with support through our sober living. Get support or apply for a scholarship:https://www.pvrecovery.com/memorial-scholarships.
Pura Vida Recovery Services
707-879-8432
130 Stony Point Rd. Suite J
Santa Rosa CA 95401 US