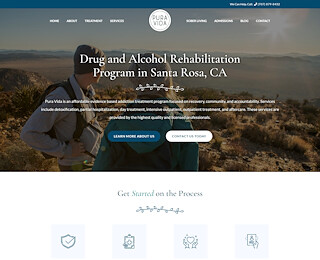 Alcohol rehabilitation programs near Santa Rosa are an effective method of treating addiction. However, anyone who has walked the road will tell you that addiction treatment is a marathon and not a sprint. Even after completing an inpatient rehab program at a reputable treatment center, you need to stay in the right environment if you're to keep up with your sobriety vows. Sober living facilities like Pura Vida Recovery Services provide the ideal environment for people who have just completed rehab. If you're at this stage of your recovery and do not know how to choose the best sober living home, here are some tips you'll find useful.
Consider the location
The ideal sober living home should be safe and guarantee proximity to your work, school, and other important sites for you. This is especially important if you're not relocating after completing a Santa Rosa drug rehab program. If you're relocating, you're most probably seeking a fresh start, and you may not know too much about the conveniences around the sober living home you wish to check into. So, in that case, verifying that the center is not too far from the city area may be enough.
Check if the home is truly sober
The last thing an individual struggling with addiction needs is to check into a sober living home with lax sobriety rules. Even if the home will not be as strict as your treatment center in Santa Rosa, they should have a zero-tolerance for substance abuse. The best homes even mandate residents to submit to regular urine screenings to ensure they're not housing people who have fallen short of their sobriety vows. Other regulatory measures may also include restricting access to visitors under the influence of expelling offenders as soon as their infarctions are discovered.
Presence of mentors
Reputable sober living homes have in-house members that are vastly experienced with long-term sobriety. Such persons must have enrolled for addiction recovery services in Santa Rosa, CA, and they're now counting years of being sober. When you have them around you, they'll serve as models worthy of emulation, and you can draw on their strength whenever you're tempted to go back to your old ways.
Cost of living
Just like most alcohol and drug rehabs in Santa Rosa, a good sober living home isn't likely to be free. Many homes that run such a model are guilty of using the insurance information of residents to submit false insurance claims and make illegal money. If you do not want to be roped into this kind of fraud, you should be wary of free sober living homes.
Get in touch with Pura Vida Recovery Services
Our facility provides evidence-based outpatient addiction treatment and structured sober living for people struggling with addiction. We have various structured programs to help our clients overcome substance use disorder and stay true to their sobriety vows. Importantly, our services are as affordable as they get, and our clients can progress towards freedom from drugs and alcohol in a friendly environment and tight-knit community. Call us at 707-879-8432 to get support or find out more about our treatment center in Santa Rosa.
Pura Vida Recovery Services
707-879-8432
130 Stony Point Rd. Suite J
Santa Rosa CA 95401 US