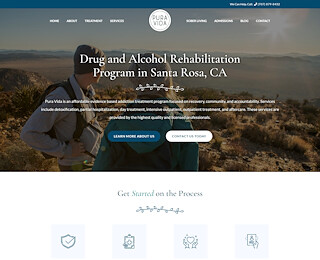 Choosing the right addiction recovery services center in Santa Rosa, CA, can define a successful recovery from relapse after a short time.
At Pura Vida Recovery Services, we have managed to become one of the most recognized treatment centers in Santa Rosa through the results of our work and the quality care we give to our patients.
If you're looking for the best possible quality alcohol rehabilitation programs near Santa Rosa, our treatment center has the quality you're looking for.
Here are the reasons why putting your recovery or that of a loved one in our hands is one of the best decisions you can make.
1. Our reputation
One of the main arguments for you to put your recovery in our hands is our reputation. The quality of the work we have accomplished with the vast majority of our patients is the perfect testament to the fact that our drug rehab treatment approach in Santa Rosa yields favorable results and allows people to regain control of their lives and achieve sustainable sobriety over time.
2. Track record
Our track record goes hand in hand with the reputation we have built for our addiction treatment center. Our services enable our patients to recover and lead healthy and productive lives once again.
3. Our program
Our program, of course, is the star of all the work we do at our alcohol and drug rehab center in Santa Rosa.
Although we have various services to suit different needs, they are all designed with a flexible approach that allows our patients to recover without abruptly interrupting their lives.
In addition, payment plans are available for our patients to access our treatments, allowing them easier access to our center.
4. Expert staff
Pura Vida Recovery Services would not be a shadow of what it is today if it were not for the team of professionals who work in our center and accompany our patients in every stage of their recovery.
We have a team composed of multiple disciplines that allows us to approach the addiction problems of our patients from multiple angles simultaneously.
Our team is comprised of a program director, a clinical supervisor, a medical director, two counselors, a nursing supervisor, and a treatment technician.
At Pura Vida Recovery Services, our patients will always have someone knowledgeable to count on.
5. Luxury facilities
We can't leave out our impeccable facilities that are specifically designed to carry out addiction treatment.
Not only are our facilities in perfect condition, but they have all the amenities you would expect from a top-notch rehab center.
We have spaces equipped for individual therapies, as well as spaces suitable for group therapies.
In addition, we have common areas and recreation areas for our patients.
Now you will have a better idea of why taking your recovery or that of one of your loved ones with our team at Pura Vida is possibly the best of the options you have when looking for a rehabilitation center in Santa Rosa.
If you want to know more about our work, don't hesitate to contact us.
Get support or apply for a scholarship: 707-879-8432
Pura Vida Recovery Services
707-879-8432
130 Stony Point Rd. Suite J
Santa Rosa CA 95401 US