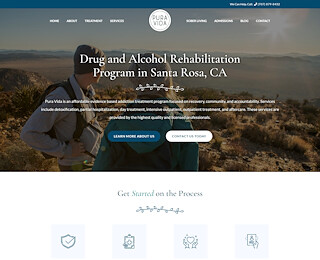 Once you're done with alcohol and drug rehab in Santa Rosa, you may need to go to a sober living home if the environment at home isn't conducive to your recovery. A sober living home is like a safe haven that helps you avoid temptations and triggers to use while providing the support you need to continue maintaining sobriety. Structured living is synonymous with these homes and is key to your recovery journey. Here, you'll be safe from external influences that can derail you. You'll also have the privacy you need to continue remaining sober without the scrutiny of colleagues, family, and friends.
At Pura Vida, we offer the finest addiction recovery services in Santa Rosa, CA. Our second to none sober living home aids residents in recovering and remain sober. So, if you're looking for "sober living near me," we've got you covered.
What to Consider When Choosing a Sober Living Home Near You
Below are tips for finding the ideal sober living home that will align with your individual needs:
How much will living in the house cost you? Make sure you thoroughly understand all the expenses involved. To help you with this, you should inquire if you're expected to pay extra for utilities, what modes of payment are accepted, and whether you need a security deposit.
Also, ask if they offer any assistance. You'll find that some sober living homes extend scholarships to residents. Others even allow you to stay rent-free as you look for a job. Therefore, ensure you know all the available options to be able to make a sound decision.
Before you pick any sober living home, try and go to the physical location. You want to be certain it's in a serene and safe place. Remember to check what's around the home to ensure it's what you need to continue remaining drug or alcohol-free. For instance, you might want to put a distance between you and triggers and temptations. Therefore, take a walk around the neighborhood.
If you're okay with the area, you can go ahead and make your decision. Equally important, it's best to commit to a sober living home that's close to your group meetings in alcohol rehabilitation programs near Santa Rosa or support system like family and friends. Your likelihood of abstaining is greatly increased by the location of the facility you pick.
On your visit, pay attention to the energy and mood you pick up from the facility. Did you feel welcomed or like an outsider? Were all your questions well answered, or were some ignored? Here, it's best to go with your gut feeling. Otherwise, staying in a negative or uninviting place can impact your sobriety efforts forcing you to return to treatment centers in Santa Rosa due to relapse.
Second to None Sober Living Home
Are done with Santa Rosa Drug Rehab and searching for "sober living near me?" Look no further than us. At Pura Vida, we provide a top-of-the-line sober living program designed to offer intensive peer support for people in recovery. Whether you've just completed your inpatient residential treatment or have joined an outpatient rehab, we have solutions to meet your unique recovery needs. Get support or apply for a scholarship: https://www.pvrecovery.com/memorial-scholarships.
Pura Vida Recovery Services
707-879-8432
130 Stony Point Rd. Suite J
Santa Rosa CA 95401 US