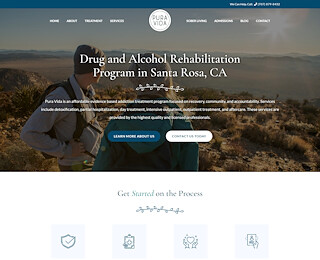 Substance abuse can take its toll on you physically and emotionally, and it also impacts every aspect of your life. When you are ready to begin recovery, you want to choose the best alcohol rehabilitation programs near Santa Rosa. At Pura Vida Recovery Services we are a leading Santa Rosa rehabilitation center. We offer a wide range of evidence-based treatments and have a skilled professional staff to help you will overcome your addiction and get on the path to recovery.
Reintegration Therapy
At Pura Vida Recovery Services, we treat the whole person and not just the addiction. One of the essential types of therapy that we offer is called reintegration therapy. We help you develop the skills and knowledge you need to successfully reintegrate with society once you complete the first stages of recovery. Reintegration therapy gives you insight into how to make better choices in the future and how to become a productive and happy member of society without having to turn to drugs or alcohol. While you attend therapy sessions at our Santa Rosa rehabilitation center, you have access to a phenomenal team of professionals who are here to help you every step of the way.
Types of Reintegration Therapy
As one of the top treatment centers in Santa Rosa, we offer comprehensive reintegration therapy. We know that with this type of therapy you will be better prepared to handle what life can throw your way once you leave rehab.
Social Therapy

Your life is very structured while you attend rehab. Our Santa Rosa rehabilitation center helps give you the tools you need to maintain structure after you leave treatment. It can be too easy to fall back into the same circles and end up repeating the same negative behaviors. We provide you with ways to better handle the challenges of living outside rehab.
Emotional Therapy

Emotional therapy uses a variety of techniques for individuals and families to assist with overcoming addiction. The therapist works individually or in groups to help resolve issues that may be at the root of addictive behavior. You will learn how to better handle your emotions with new and better habits to replace negative ones such as drug or alcohol use.
Behavioral Therapy

It is helpful to learn new behaviors that you can use instead of falling back into the same negative patterns. Behavioral therapy gives you the tools you need to deal with the urges and how to better fill your time using healthier alternatives.
Vocational Therapy

Many people have turned to drug or alcohol use as a result of feeling as though they are lost and don't have a place in the world. Vocational therapy gives you insight into your skills and how you can develop them into rewarding career path.
Educational Therapy

Our skilled professionals work with you to develop your skills and prepare you for life outside of rehab. You will begin to find what types of career paths will make you happy and will assist you in finding the programs that can get you ready for a new job.
Visit our website to learn more and to get support of apply for a scholarship: https://www.pvrecovery.com/memorial-scholarships.
Pura Vida Recovery Services
707-879-8432
130 Stony Point Rd. Suite J
Santa Rosa CA 95401 US