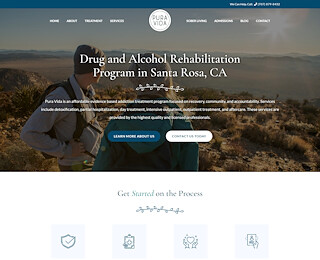 Overcoming addiction is often a challenging task. However, it's quite possible to lead a new life with the right treatment and support even after years of struggling with substance use. Because there are numerous treatment centers in Santa Rosa, and not all of them are created equal, choosing the right place to get treatment is often one of the most important decisions patients, and their families have to make. Here, we highlight some of the most important factors to consider when choosing an alcohol and drug rehab in Santa Rosa.
Inpatient or outpatient program
The decision to check into an inpatient facility or seek treatment as an outpatient often borders on addiction severity. Patients who have severe cases of addiction or have been addicted for a long time, or are struggling with relapse are often encouraged to go for intensive inpatient programs. On the other hand, patients with milder cases can opt for outpatient alcohol rehabilitation programs near Santa Rosa. You may also need to consider other factors such as the proximity of the treatment center or if the individual still has to work or school while getting treatment.
Treatments and therapies
Different Santa Rosa drug rehabs may have different models of addiction treatment. So, before settling for anyone, you should find out more about their treatment programs and therapies. The important thing to know is that there's no one-size-fits-all approach to addiction treatment. Individuals may respond differently to the same treatment program, which is why it's important to choose a rehab whose programs are a good fit for you. It would be best to verify that all the treatments and therapies are evidence-based and the center has a proven track record of success.
Environment and available amenities
If you choose a residential program, you need to ensure that the facility is located in a serene and secure environment. Furthermore, they should have essential amenities that would guarantee your comfort throughout your treatment. Remember, inpatient alcohol recovery services in Santa Rosa, CA, typically last for at least four to twelve weeks. If you're going to spend that long away from home, the place should be comfortable enough to feel like home. We encourage individuals and families to take a tour of the treatment center wherever possible.
Cost of treatment
Quality rehabilitation services hardly ever come cheap. However, patients and their families need to understand that the cost of addiction treatment pales in comparison to the price of staying addicted to drugs or alcohol. So, when comparing cost of treatment, you shouldn't have the mindset of opting for the cheapest treatment center available. Rather, you should look for the center that offers the best treatment you can afford.
Get in touch with Pura Vida Recovery Services
At Pura Vida Recovery Services, we offer evidence-based outpatient addiction treatment and structured sober living for people struggling with addiction. We have various structured programs to help our clients overcome substance use disorder and stay true to their sobriety vows. Importantly, our services are as affordable as they get, and our clients can progress towards freedom from drugs and alcohol in a friendly environment and tight-knit community. Call us at 707-879-8432 to get support or find out more about our treatment center in Santa Rosa.
Pura Vida Recovery Services
707-879-8432
130 Stony Point Rd. Suite J
Santa Rosa CA 95401 US